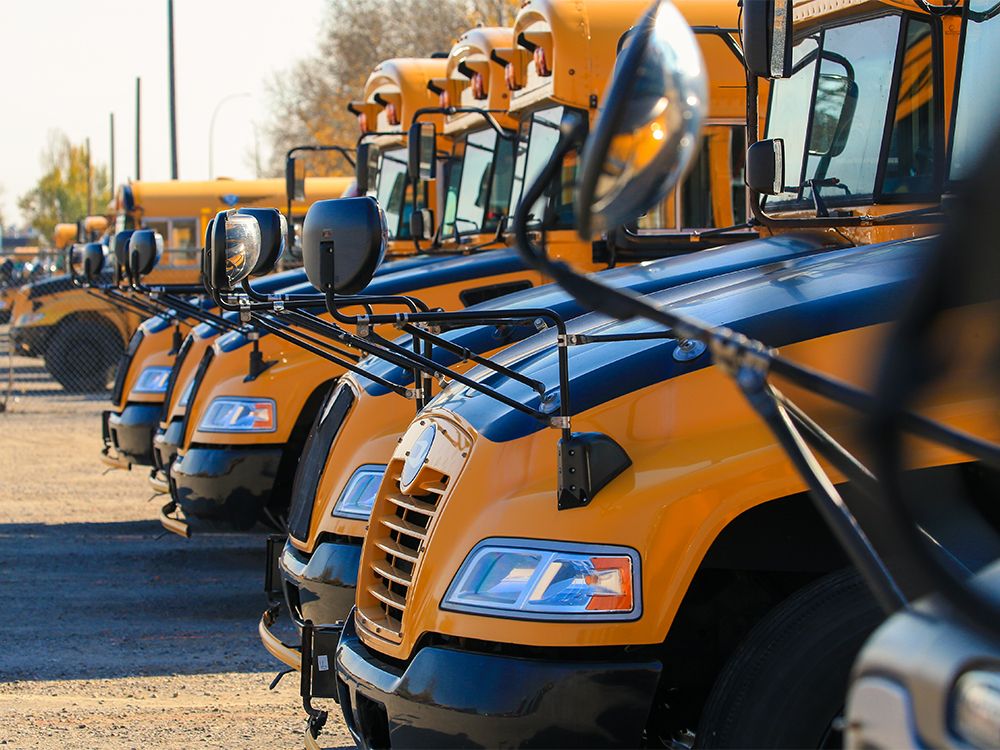 Alberta Education's hike to transportation funding slow to make change
Despite a 30 per cent increase to transportation funding, driver and vehicle shortages are delaying improvements for at least another year
Article content
A big spike in Alberta Education's transportation funding is expected to expand school bus eligibility to thousands more students, add more buses and ensure lower costs for families.
Article content
But the only change many school bus riders will see next year is a slight drop in fees, as the industry faces a number of economic challenges, from ongoing driver shortages, limited vehicles and higher maintenance costs.
Article content
"The driver shortage — it's still a challenge, although not to the same degree," said Arjan Slagmolen, regional director at Southland Transportation, which provides yellow bus service to the Calgary Board of Education and other districts.
"We can't predict the future and how things will look at the beginning of the next school year. But we are continuing to aggressively hire and to train as many drivers as we can."
As part of the UCP government's Budget 2023 released this spring, Alberta Education is providing school boards up to $414 million over the next three years, a 32 per cent increase for the 2023-24 school year.
The province vowed the increased funding would ensure about 80,000 more students would get busing by changing the eligibility criteria from the current 2.4 kilometres to just one kilometre for K-6 students and two kilometres for students in grades 7 to 12.
Article content
It means more students that live closer to their schools will have access to busing. As well, the UCP estimated families would save up to $20 million in costs through reduced fees and not having to drive their kids to school.
Most public school students in Calgary will pay $260 in annual bus fees next year, a slight drop from last year's $280.
No changes to rider eligibility until 2024
But the CBE confirmed this week that it's not yet adding more riders, saying transportation service levels are expected to remain the same next year with about 20,000 students taking yellow buses, the same number as this year.
CBE spokeswoman Joanne Anderson said the province's changes to grow rider eligibility don't kick in until 2024. And while the board cannot say whether more drivers will be hired for next year, she did say there are fewer open routes without drivers now than there were at the beginning of the school year.
"We are unable to provide numbers of bus drivers as they are hired and employed by our transportation service providers. Hiring and training continually happens throughout the year," Anderson said.
Article content
"We can provide information about the number of routes we utilize. This year we've had more than 600 school bus routes. We began the year with 67 open routes that did not have a regular driver assigned. There are currently less than 20 open routes."
The CBE has faced major disruptions to busing over the past year as the industry faced a severe shortage in bus drivers at the end of the pandemic. The school board often put out daily warnings earlier in the school year, warning families to have a backup plan in case their child's bus did not show up.
Industry challenges make it easier to wait another year for changes: report
But with more students expected to qualify for busing in 2024-25, Anderson said the CBE will work with individual schools over the next year to determine the effect and the possibility of changing some bell times.
"We will also be working with Alberta Education and yellow bus service providers," she added. "We anticipate the ongoing driver shortage will continue to be a challenge."
$414 million from Alberta Education for student transportation over next three years

Alberta to reduce distance requirement for student transportation

CBE asks province to streamline licensing as bus driver shortage persists
In a report to CBE trustees this week, administrators said industry challenges will also make it easier to wait at least another year to implement service changes.
Article content
"Alberta Education introduced a new funding model for the 2023-24 school year to be implemented within the next 18 months. This enables the CBE to determine the best timing to implement the service changes, increase reliability and reduce fees," the report says.
"Transportation levels will remain the same next year with a decision to focus on solidifying service reliability and continuing to mitigate risks associated with bus driver shortages and recruitment.
"We are working closely with service providers to establish the CBE as the No. 1 choice for school bus drivers. This will help ensure CBE is best positioned to fully implement the necessary changes by the government's deadline of September 2024."
'Not enough drivers or buses available' for immediate changes
Slagmolen said that industry challenges — including a 30 to 50 per cent increase to the cost of new buses, maintenance and labour — have made it difficult to immediately add more routes and riders for most school boards.
"If every board were to try and fully implement all of these changes right away, it couldn't happen. There are just not enough drivers or buses available to absorb all those changes," he said.
Article content
"It's very different for every school board. But we are dealing with an economic correction where cost increases have been very substantial."
Alberta Education aiming to address driver shortage
Alberta Education said that through Budget 2023, increased funding for driver training will support up to 1,250 drivers, including 350 new drivers, and increase the driver workforce by up to six per cent.
The province also removed mandatory entry-level training for Class 2 licences on April 23.
"Removing this requirement makes it easier for Albertans to obtain their Class 2 licence and makes it easier for school boards and bus companies to hire and train drivers, helping to alleviate the ongoing school bus driver shortage," said Emily Peckham, press secretary at Alberta Education.
The province is also accepting applications for a new voluntary on-the-job training program for Class 2 and Class 4 school bus drivers, Peckham added, ensuring they have the skills required to operate a school bus safely.
"Drivers will get hands-on experience in their work environment using equipment and experiencing real-life scenarios that occur as they do their job."
That program will be rolled out in June.