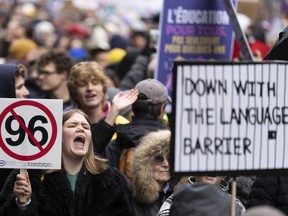 Analysis: Legault has targeted English education since taking power
From kindergartens to universities, the CAQ government has tried to revamp the anglophone school system, attempting to limit enrolment.
Article content
Not since Premier René Lévesque's Bill 101 started choking access to English schools in the 1970s has a Quebec leader focused so much attention on anglophone educational institutions.
From kindergartens to universities, Premier François Legault's Coalition Avenir Québec government has repeatedly targeted English-language education with measures that attempt to limit enrolment and put more control in the hands of provincial politicians and bureaucrats.
Article content
At times, he has been influenced by his former party, the more nationalistic, pro-sovereignty Parti Québécois. The PQ's recent Quebec City byelection win and strong polling numbers have alarmed the CAQ.
Legault's education moves have sparked outrage and legal battles among anglophones worried about institutions whose vitality is seen as crucial to keeping young people — the community's future — from leaving the province.
Here's how the CAQ government has systematically tried to revamp English-language education since taking power five years ago.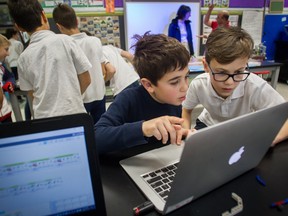 Bill 101, a PQ law that came into effect in 1977, shook the foundations of English primary and secondary schools, limiting access to children whose parents were educated in English in Canada. Shutting out most francophones and immigrants has led to a steady decline in enrolment.
In 1998, under PQ Premier Lucien Bouchard, linguistic school boards replaced Catholic and Protestant boards. That historic reform, which required a constitutional amendment, gave the anglophone community greater oversight of its schools. 
Article content
Two decades later, the Legault government has been chipping away at that control.
English boards are a thorn in Legault's side, battling the CAQ government on several fronts in court, including Bill 21, the secularism law that bans teachers and other authority figures from wearing religious symbols such as the Muslim hijab. During the COVID-19 pandemic, some English school boards installed air purifiers in classrooms, ignoring government advice.
Elected school boards
In 2019, one year into office, the CAQ government set out to abolish elected school boards, both English and French. It cited low participation in board elections. In 2014, five per cent of voters cast ballots for French school boards, and 17 per cent for English ones.
Bill 40 aimed to replace the boards with administrative "service centres," effectively putting more power in the hands of bureaucrats in Quebec City.
Instead of traditional boards made up of elected paid commissioners, the centres would be run by boards of directors made up of parents, community members and members of school service staff. On the English side, some board members would be elected; however, the government restricted who could run.
Article content
The reform went ahead on the French side. But English school boards took the issue to court and won.
In August, Quebec Superior Court ruled Bill 40 provisions related to English-language boards were unconstitutional. They violate the anglophone community's constitutional rights, Judge Sylvain Lussier found, ruling Quebec erred in trying to limit the rights related to education only to parents whose children attend English school.
These rights, he said, extend to the entire English-speaking community. "As the saying goes, 'It takes a village to raise a child,'" Lussier wrote.
Legault said the government would appeal the decision: "I think that even on the English side not many people vote (in school board elections) so the percentage of participation is very low. It's important you make sure that the best practices are put in place everywhere — French and English sides."
Directors General
The CAQ government wants to give the Education Ministry the power to name the directors general of French school services centres and the province's nine English school boards.
Article content
Bill 23, introduced in May, also seeks the power to annul decisions "not consistent with the targets, objectives, policy directions and directives the minister has established, and to make the decision that, in the minister's opinion, ought to have been made in the first instance."
It would also apply to French service centres but, as with Bill 40, anglophone community groups argue that Bill 23 is unconstitutional because it violates the constitutional right of the English community to manage its schools.
It's "another attempt by this government not only to centralize power but also remove our communities' rights to manage and control our institutions by virtue of the Charter of Rights and Freedoms," said Quebec English School Boards Association president Dan Lamoureux.
Worse, he said, it violates the spirit of Bill 40 court judgments, which suspended modifications to the English network, Lamoureux added. Boards have threatened to challenge Bill 23 in court.
Currently, at English boards, directors general are appointed by the elected council of commissioners.
Article content
Quebec says Bill 23 is needed because the system set up by the Legault government under Bill 40 lacks accountability.
"It's as if as soon as there's a problem somewhere in a school … in Quebec, it always has to be the minister who ultimately has to answer for everything, all the time, for everything that's happening," Education Minister Bernard Drainville said. "We're going to have to change that culture."
Temporary English permits
Quebec allows foreign children to temporarily study in English. Until recently, this exemption allowed access for up to six years. But last year, Bill 96, which introduced new curbs on English in Quebec, imposed a three-year limit on the permits, with no possibility of an extension. Students must have their temporary permits renewed every year by the Education Ministry.
In September, an association of private schools said the Education Department was unfairly refusing to renew the temporary permits of up to 20 students.
The Quebec Association of Independent Schools also pleaded with the government to make an exception, on humanitarian grounds, for dozens of other youths who lost their right to English schooling. Failing that, these students would be forced to switch to French school as they approach the end of high school.
Article content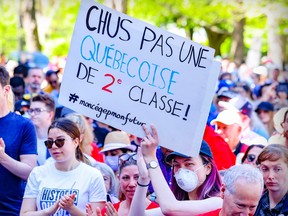 English CEGEPs have become popular with francophone and allophone students over the past decade. Some want to improve their English after being required to attend French school; others hope to expand university and job market options.
In 2021, the CAQ government opposed a PQ plan to cut access to English CEGEPs by banning francophone and allophone students. But the Legault government has more recently taken a harder line.
Dawson expansion
Dawson College, in downtown Montreal, has long had an overcrowding issue. In 2020, the CAQ government added a $100-million expansion to its list of fast-tracked infrastructure projects.
Dawson said its plan would solve its space problems and create a student-run health clinic that would serve thousands of Montreal patients a year.
Nationalists were outraged. The PQ said the project would "accelerate the anglicization" of Quebec.
Legault defended the plan. "Putting money to expand the capacity of Dawson doesn't mean that we refuse other projects in the francophone colleges," he said in 2020. "I support the expansion of Dawson College."
Article content
Two years later, Legault pulled the plug: "I think that if we have to choose a priority, it's better to expand French colleges before adding capacity to Dawson."
Bill 96
The CAQ's sweeping Bill 96 language reform, criticized as excessive by anglophone groups, targeted English CEGEPs with major changes and little time to implement them.
The law set a limit on the total number of students who can enrol in English-language CEGEPs, prohibiting any potential growth. At Dawson, for example, the maximum is 7,915 students, similar to its student population in recent years.
The changes are being phased in over two years, with several aspects hinging on whether students have an eligibility certificate for English schooling.
That document is issued to children whose parents did the majority of their schooling in English in Canada. Until now, the certificate was used to determine whether children had the right to attend English-language elementary and high schools in Quebec.
Starting this year, students at English CEGEPs who do not hold a certificate of eligibility must pass the same French exit exam as students at French CEGEPs. (In the past, all students at English CEGEPs had to pass an English exit exam.)
Article content
In addition, as of 2024, English CEGEPs must give admission priority to students with an eligibility certificate, a bid to limit allophone and francophone enrolment. 
Students at English CEGEPs have always been required to take some French language courses.
Starting in 2024, students with an English eligibility certificate will also have to take three courses in their area of study in French or three additional French language courses to improve their French language skills.
There are concerns the additional French courses will affect anglophone students' long-term prospects because low marks would affect R-scores, a measure of academic achievement used by universities when they select students.
Students without a certificate will have to take three of their core courses in French.
English eligibility certificates
Now that they have taken on greater importance, more Quebecers are requesting certificates.
Some are facing a brick wall because the Education Department is refusing to issue them to any student who has already graduated from high school, even if they were eligible.
Article content
This is affecting some anglophone CEGEP students who attended French elementary and high schools and who are now requesting their eligibility certificates. They are concerned they may not have the level of French necessary to pass a French test that has a high failure rate even among students at French CEGEPs.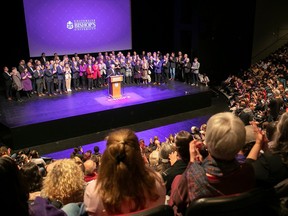 Legault has long wanted to target McGill University.
In 2012, in his first election as head of the nascent CAQ, he suggested McGill medical graduates who leave Quebec should repay the roughly $160,000 it costs Quebec taxpayers to train them. To stop the brain drain, he said, the CAQ might invoke the notwithstanding clause in the Charter of Rights and Freedoms to override constitutional protection of a citizen's right to move to another province.
In power since 2018, Legault did not follow through.
And as premier, he has resisted calls from nationalists, including those at the PQ, to pull the plug on McGill's planned expansion on the site of the former Royal Victoria Hospital. The Quebec government has pledged to contribute $475 million.
CAQ MNA Mario Laframboise passionately defended anglophone universities — Bishop's, Concordia and McGill — in 2020. He said Quebec should preserve world-class institutions such as McGill for "our children and grandchildren."
Article content
He added: "I want to tell the PQ this scorched-earth policy they are pushing is not good politics. We are going to move Quebec forward with our universities, whether they are anglophone or francophone."
But something changed this year.
In October, the CAQ government announced major tuition changes, saying it wanted to boost underfunded French universities and stop what it sees as a decline in French. It has portrayed English institutions as money pits for the government and a threat to the French language.
The surprise moves were criticized by business groups and prominent francophone universities, including Legault's alma mater, the HEC Montréal business school. The PQ and the Université du Québec network support the changes.
English universities were taken aback by the new structure, which will leave multimillion-dollar holes in their budgets, with little time to adapt as the changes take effect in fall 2024.
Concordia has said the overhaul will cost the institution about $62 million annually.
McGill says the plan could lead to a major drop in enrolment, a loss of up to $94 million in annual revenue and up to 700 job cuts. Major infrastructure projects could be abandoned and varsity teams suspended.
Article content
Students from other provinces
Come 2024, tuition will almost double for students from elsewhere in Canada who study in Quebec toward bachelor's and some master's degrees. The vast majority attend Quebec's English-language universities. Tuition will jump from just under $9,000 to $17,000 per year. 
Higher Education Minister Pascale Déry said these young people, who already pay three times more than Quebec students, are a financial drain. Quebec spends $110 million per year to subsidize their education, she said.
French Language Minister Jean-François Roberge blamed them for accelerating the decline of French in Quebec, though he presented no evidence to back up that claim. No enrolment or financial projections were made public either.
English universities say the higher prices and uncongenial attitude will scare off young people from other provinces, causing a major drain in enrolment. 
Bishop's has said it might not survive the loss of students from the rest of Canada. 
International students
Quebec is setting a minimum tuition rate for foreign students and will siphon off a significant portion of the fees they pay.
Article content
The CAQ says the previous Liberal government's deregulation of this part of the university system in 2019 has largely profited English universities, which get the lion's share of the cash brought in by foreign students. 
The government hasn't detailed how it will redistribute the money it will take on the international front, but has indicated that French universities will be the major beneficiaries.
Related Stories
Hiking tuition for Quebec's English universities could have 'devastating impact'

Legault says he'll talk to Quebec's English universities about tuition hikes

Analysis: How Quebec tuition overhaul targets Bishop's, Concordia and McGill

My Account News Sports Opinion Business Arts Life Puzzles Comics Healthing Driving ePaper Remembering Newsletters Manage Print Subscription Andy Riga Andy Riga [email protected] Andy Riga has moved around since starting at the Gazette in 1991. Business reporter. Technology columnist. National Assembly correspondent. Transport reporter. Producer for the iPad edition. COVID live blogger and newsletter writer. Today, he's a reporter/feature writer who covers a bit of everything. LATEST STORIES BY ANDY RIGA Out-of-province students aren't 'freeloaders or cash cows': French university heads

Quebec tuition plan more evidence of Legault's fear of anglos: Fraser

Hundreds of Quebec university students protest against tuition hike

Bishop's supporters call for university to be exempt from Quebec tuition hike