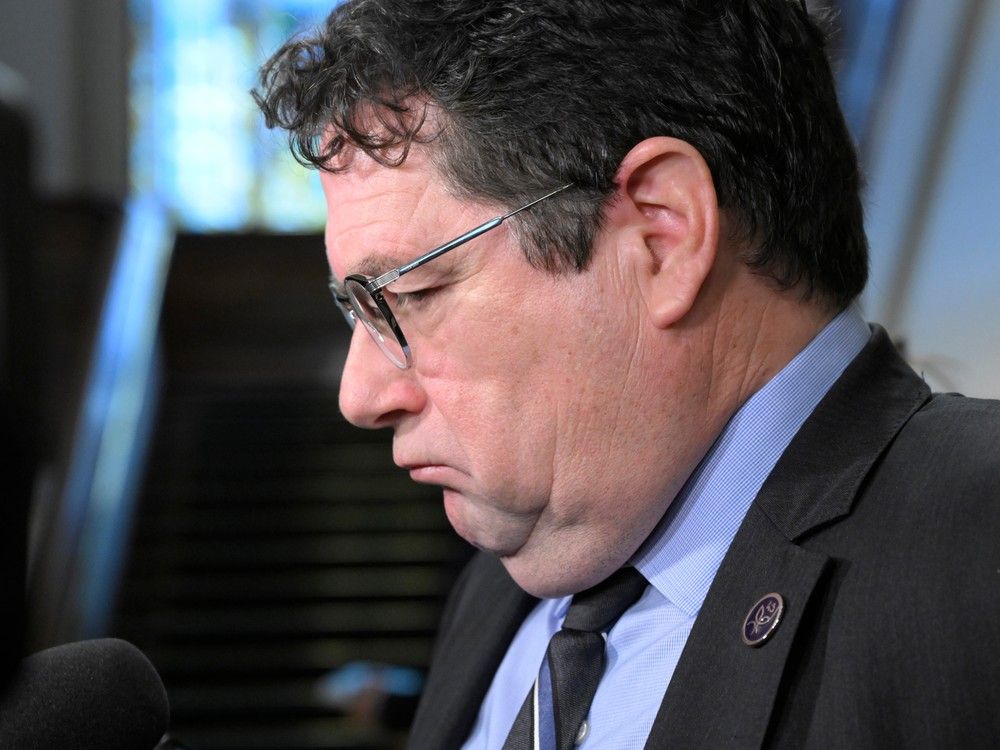 Analysis: Quebec's education minister makes headlines for wrong reasons
Here's a look at the series of gaffes that have put Bernard Drainville in the hot seat.
Article content
For a seasoned politician and broadcaster, Quebec's education minister has been getting into a surprising number of awkward situations in recent weeks.
Article content
Bernard Drainville was close to tears in a media scrum over a broken promise.
Article content
He stormed out of a National Assembly hearing, annoyed by the opposition.
Most recently, he implied teachers' work is less valuable than that of MNAs.
With the National Assembly set to resume work Tuesday after a one-week break, opposition parties are expected to zero in on Drainville. There are even reports of grumbling over his gaffes within the normally compliant Coalition Avenir Québec caucus.
Here's a look at some incidents that raised eyebrows:
'You don't need it!'
Leaving his job as one of Quebec's top-paid radio hosts, Drainville, a former Parti Québécois minister, returned to politics last year with a party sailing to an easy victory — Premier François Legault's Coalition Avenir Québec.
Article content
A star candidate guaranteed a cabinet post, Drainville promised voters in his riding — Lévis — an end to the "hellish" traffic they were enduring getting to and from Quebec City, just across the St. Lawrence River. The solution: a $10-billion tunnel.
"People are getting more and more tired of being told: 'You don't need it!' " Drainville told reporters amid the election campaign,
Well, seven months later, Drainville himself had to tell his constituents just that. And his trouble controlling his emotions made headlines.
"It's a very emotional subject," Drainville, on the verge of tears, told reporters. "I made a promise and I am not in the position to deliver it.
"I understand (constituents') disappointment. I understand their anger. I am very sorry. The commitment I made was sincere. The traffic I saw last summer was real. I sincerely thought the insane traffic we saw was the new reality."
Article content
In fact, traffic died down once roadwork ended, and "the new post-pandemic traffic is not the same as it was before," with many people now working from home, Drainville said.
The CAQ promised a new link through three election campaigns, including in the fall, when Legault insisted the project would go ahead despite the huge cost for a relatively small region, and piles of skepticism from experts and opposition parties.
Critics called the tunnel promise a cynical vote-getter.
The project was popular in the region, where the Conservative Party of Quebec hoped to make inroads.
In the end, the tunnel promise helped the CAQ hold on to its seats in and around the provincial capital. The Conservatives, including leader Éric Duhaime, running in the region, were shut out.
Article content
'Demagogue!'
On the day of the tunnel apology, Drainville's mood went from contrite to irate.
He made headlines by heckling Liberal education critic Marwah Rizqy and then leaving the National Assembly's Salon bleu in a huff. It's virtually unheard of for a minister to up and leave during a debate involving their portfolio.
Rizqy was pressing him about rising lunchtime fees at schools north of Montreal.
The opposition MNA took Drainville to task for saying the fees were the responsibility of local school service centres. After all, those centres, which replaced school boards, were created by the CAQ, giving the government more control over education.
"Is the minister really talking to us about accountability today after the mega-reversal (on the tunnel)?" she demanded.
Article content
That was too much for Drainville, who could be heard responding from across the floor: "If you want to be a demagogue, do it alone!"
Taken aback, Rizqy told the minister to "learn to manage your emotions."
"Demagogue!" he shot back before walking out.
'Really comparing?'
The CAQ government just proposed a 30 per cent wage hike for MNAs, which would make them Canada's best-paid provincial legislators.
So why, Le Devoir reasonably asked Drainville, shouldn't Quebec teachers, now among Canada's lowest paid, also be the best paid in the country?
"Are you really comparing the job of a teacher with the job of an MNA?" Drainville replied. "Are you in the process of telling me they are comparable?"
An uproar ensued, with teachers' unions, opposition parties and commentators accusing the minister of showing contempt for the people who educate the province's children.
Article content
Awkwardly for Drainville, a 2015 video surfaced showing him, with the PQ at the time, blasting the Liberal government for wanting to… hike MNA salaries by 31 per cent even as it was "proposing to impoverish teachers."
Last week, the controversy over Drainville's flippant remark about teachers festered for three days before the minister uttered an apology that critics called half-hearted.
"If there are people who felt hurt, especially teachers, yes, I apologize," he told reporters.
"I never meant to insinuate that teachers are less important than MNAs. I think all professions and all trades deserve the same respect. Whether you are a teacher, a nurse, a machinist, a plumber, a construction worker, an agricultural worker… We all deserve the same respect."
Article content
Drainville's timing wasn't great.
He questioned the value of teachers on the same day a massive wage hike was revealed — for Legault's chief of staff, Martin Koskinen, a longtime confidante seen as the premier's alter ego.
Koskinen's salary rose by $71,000 — a 31-per-cent jump — to $301,063.
Legault called it a pay "catch-up" to ensure Koskinen earns as much as deputy ministers.
In December, Quebec offered its 600,000 public sector workers, including teachers, salary increases of nine per cent over five years. Unions roundly rejected the offer.
Quebec education minister showed 'contempt' for teachers, Liberal critic says

Tearful Drainville apologizes for government's decision to scrap Quebec City tunnel

New education bill is met with outrage from Quebec anglophone groups

A 30% wage increase for MNAs? Here's what other Quebecers can expect