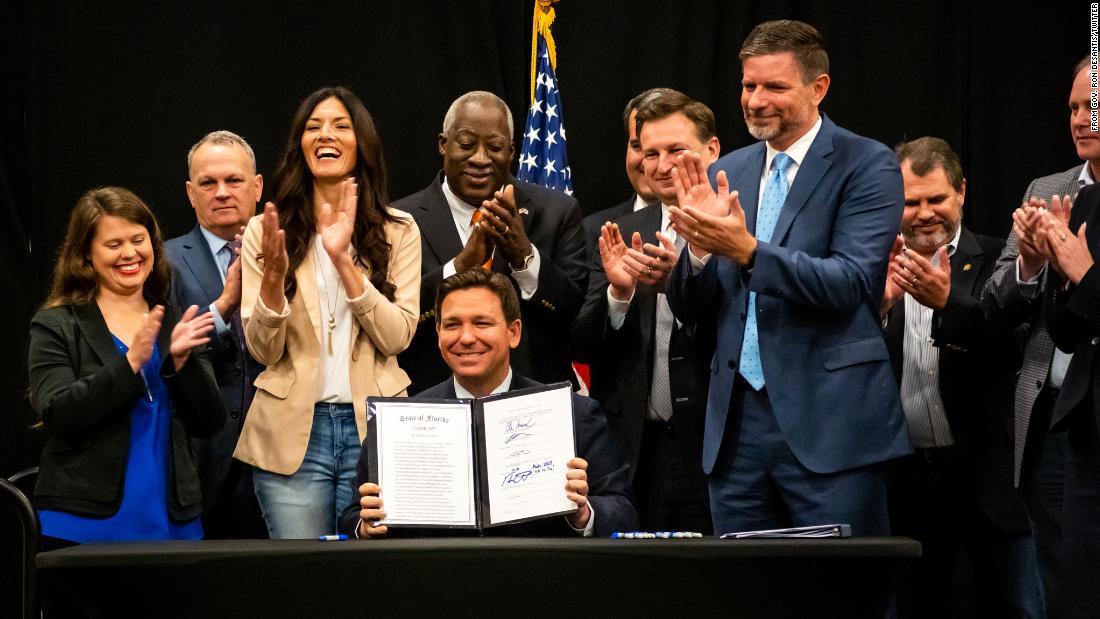 Book bans move to center stage in the red state education wars
Though battles over access to controversial titles traditionally have been fought district by district, and even school by school, Republican-controlled states including Florida, Georgia, Tennessee and Texas are now pushing statewide rules that make it easier for critics to remove books they dislike from school libraries in every community.
At the same time, although none have yet passed, more red states are seriously debating proposals that would make it easier for critics to force the removal of books even from public libraries serving the adult population.
"The primary target still is school libraries and school librarians, K-12 teachers, but we are seeing this bleed over to public libraries," says Deborah Caldwell-Stone, director of the Office for Intellectual Freedom at the American Library Association.
To the conservatives pushing this agenda, these new restrictions on libraries — like the parallel red-state laws limiting certain discussions in the classroom — are a means of protecting parental rights.
"Parents want education for their kids: They are not interested in indoctrination through the school system," DeSantis argued late last month when signing a bill facilitating efforts to remove books from school libraries.
The parallel battles over how teachers address race, gender and sexual orientation and how libraries regulate access to books represent the broadest attempt to limit what students are taught since the "loyalty oath" demands on teachers during the red scare period of the 1950s, or even the "Scopes trial"-era laws banning the teaching of evolution during the 1920s.
"There is an overarching trend here of interference with the right to learn and the right to access information," says Vera Eidelman a staff attorney with the American Civil Liberties Union's Speech, Privacy and Technology Project. On both fronts, she says, critics are "targeting the same set of viewpoints and experiences and aspects of education," primarily materials relating to race, gender roles and the experiences of LGBTQ individuals.
'Parallel movements'
The torrent of laws approved in Republican-controlled states since 2021 to limit how teachers can discuss race, gender or sexual orientation has been part of a much broader current. Since the 2020 election, the 23 states in which Republicans control both the governorship and the state legislature have approved a surge of statutes restricting abortion rights, making it more difficult to vote, barring transgender girls and women from participating in grade school or college sports, banning transgender care for minors and increasing penalties for public protest. Cumulatively, as I've written, these proliferating red-state measures constitute an attempt to reverse what legal analysts call the "rights revolution" of roughly the past 60 years, in which Congress and the Supreme Court have generally expanded the circle of basic civil rights and liberties guaranteed to all Americans and reduced the ability of states to curtail those rights.
Critics of the new wave of red-state measures see an especially powerful through line connecting the laws that make it more difficult to vote and increase the legal penalties for disruptive public protest with the bills that censor classroom instruction or empower critics to ban books in school libraries. All three thrusts make it more difficult for opponents to mobilize opposition to the agenda the red-state Republicans are advancing.
"There are parallel movements across voting rights and protest rights and education rights," says Jonathan Friedman, director of free expression and education at PEN America, a free-speech group founded by prominent authors. "In each case, you have a kind of flowering of experimentation of legislation to see what kind of things can fit to make it harder for people to vote, to make it more costly to protest and what would make it harder to access information in school."
"The level of focus and unity of language that we are seeing across all of these different bills is pretty extraordinary," Sachs says. "There is an incredible amount of overlap, down to the punctuation of these bills, so we can definitely consider this a national campaign and not one that is responding to the specific context of each state."
Public libraries are not immune
This campaign has developed so much momentum that it has overflowed the classroom to reach the library — particularly those in schools, but now also, for the first time, lapping at the doors of those that serve the public.
But this struggle is also expanding to a new level, with multiplying red-state efforts to create statewide policies designed to lead to the removal of more books. In Texas, for instance, Republican Gov. Greg Abbott is pressuring school boards to remove what he calls "pornography" from school libraries. Abbott's letter followed a more detailed complaint from a Republican state legislator who sent districts a letter inquiring about the presence of 850 books, including several by prominent Black or LGBTQ authors.
In Florida, DeSantis signed a bill late last month that requires school libraries to post more information about their collections and seek community input on materials they acquire. Most importantly, the new law requires the state Department of Education to collect and publish a report on which books have been removed in any district across the state.
At the bill-signing ceremony, DeSantis said these provisions would ensure that students are exposed only to age-appropriate books. The new measures will increase schools' "ability to choose what is appropriate for different age groups," he argued. "Parents are going to have the ability to have their voices heard."
But opponents of the legislation say the requirement for the state Education Department to publish a list of books removed in any district provides a road map for critics to demand the removal of such books in all districts.
In another escalation to the book wars, red state proposals are now emerging to ease the removal of books even in public libraries serving the adult, as well as the youth, population. These proposals generally would strip away the protection for librarians (and educators) from state obscenity laws, allowing officials to criminally charge librarians if they stock materials that a prosecutor considers obscene.
Serving 'the needs of everyone'
Such arguments highlight what may be the core issue in this intensifying dispute: Though the classroom and library restrictions are being portrayed as an effort to strengthen "parents' rights," in practice they mean giving one set of parents a veto over educational content not only for their own kids, but others' as well.
Librarians "don't disagree with parents who want to guide their children's readings … but they stand firmly opposed to one family dictating what is available to everyone else in a school library or a public library," Caldwell-Stone told me. "We all live in diverse communities these days … and we firmly believe that as public institutions, both public libraries and public school libraries need to serve the needs of everyone and reflect everyone's lives in the library collection."
"After a long time of banging my head on the kitchen counter, I do feel like there's progress and we are seeing some results," says Katie Paris, Red Wine and Blue's founder.
Paris says thousands of women have gone through the group's training, which is designed to counter the organizing of the conservative organizations supporting the restrictions, such as Moms for Liberty. Though the number of proposed book bans continues to rise, Paris says, a smaller share of them have been approved in recent months by districts or school administrators, according to the group's figures. In several cases, others note, students themselves are taking a more visible role in opposing these measures — as in the widespread walkouts in Florida against the "don't say gay" bill and a lawsuit brought by Missouri students against a book ban in their school.
"One element is these (conservative) parents vs. all the other parents, and the other is the parents vs. the students," says Friedman. "I don't think it's at all clear parents have rights to prevent their children from being exposed to the world."
Yet many observers note it's unclear whether this more conservative Republican-appointed Supreme Court majority would uphold that standard. What is clear is that more of the red states appear intent on testing the boundaries of what the Supreme Court will allow through new laws facilitating the banning of books from school, or potentially even public, libraries.
"This is one of the key characteristics of the era in which we live," says Paris. "I think we've had to learn there are no bounds. That is what makes this a fight for democracy. This isn't just a culture war sideshow."