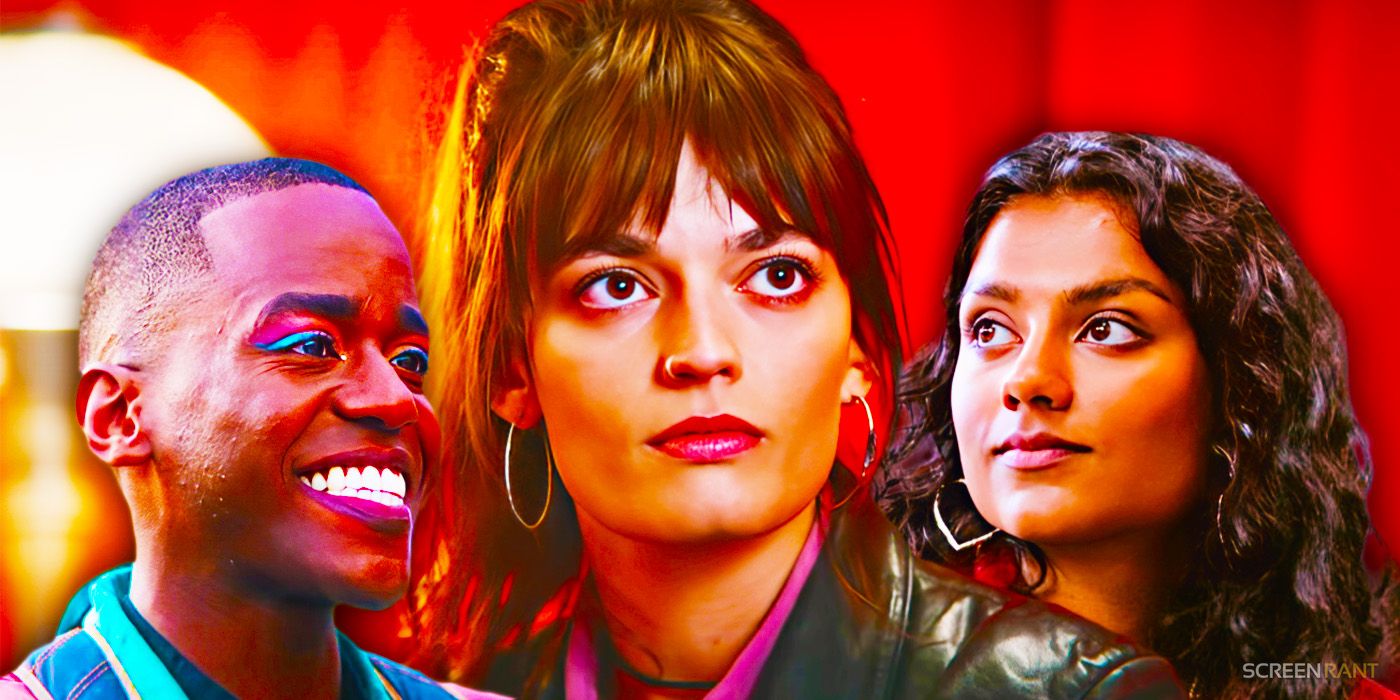 How Much Did Sex Education Season 4 Change Because Of Cast Exits?
Warning! Spoilers ahead for Sex Education season 4.
Summary
Cast departures had a significant impact on the storytelling of Sex Education season 4, but the important storylines were given their due.
The departure of mostly supporting characters allowed the show to focus on its most important characters, namely Otis, Eric, and Maeve.
The sale of Moordale Secondary School in season 3 helped explain the absence of many characters in season 4, including Ola, Anwar, Olivia, and Jean's love interest Jakob.
Sex Education went through a cast exodus before it returned for season 4, and it had significant impacts on its storytelling. After season 3, there were murmurs about the show approaching its end. This was despite the show being popular and a critical darling. Considering Sex Education's subject, it was clear that it was nearing its pre-determined end as Otis and his peers gradually approached the end of their time at Moordale Secondary, which was the backdrop of the project. For months, Netflix remained mum about the fate of the show, opting to keep the public guessing as they waited for its return.
At the end of Sex Education season 4, all important storylines were given their due, which was one of the advantages of knowing that it was ending before production started. Otis and Maeve got their romance, but unfortunately, it didn't last long. Eric learned about his calling in life, while Ruby found genuine friends. All of this, while many of the former Moordale Secondary's students properly start college at Cavendish. While Sex Education delivered a mostly satisfying ending, there's no doubt that the cast departures had an impact on its storytelling.
Related: 10 Biggest Questions After Sex Education's Series Finale
5
Sex Education Season 4's Departing Characters Were Mostly Supporting Roles
There were several actors who confirmed that they weren't returning to reprise their roles in Sex Education season 4. The list included Simone Ashley as Olivia, Patricia Allison as Ola, and Tanya Reynolds as Lily. Rakhee said that she wouldn't be back as Emily Sands, but she eventually made a brief cameo attending the funeral service for Maeve's mom. Her involvement was short, but it was great to see her interact with Maeve, considering that she was instrumental in her getting the US writing course.
There were several other characters who were absent in the final outing of the coming-of-age series, but it's worth mentioning that all of them were secondary characters. This means that Netflix was able to easily move forward without them. Granted that it left some plots fully unexplored, such as Adam's friendship with Ola, their departures didn't have a significant impact on the show.
4
Sex Education Season 4 Kept Its Most Important Characters
Just because Sex Education season 4 suffered many cast departures, it didn't mean that the show felt smaller. Since the majority of those who left were ancillary roles, Netflix was given the opportunity to focus on its most important characters. Despite being an ensemble show, Sex Education had three primary players — Otis, Eric, and Maeve, and all three of them returned for the show's final season. Diversifying the show's storytelling in previous years helped make it more dynamic, but the expanded cast made it difficult to really delve into its main players' stories.
Granted that Sex Education season 4 introduced a bevy of new players, but since they were all mostly new, they didn't take much of the show's storytelling. The series wasn't also pressured to devote a lot of time to them because they hadn't been in it for too long. While viewers may have differing opinions on how the project wrapped up, especially Maeve and Otis' Sex Education season 4 fate, at least it was able to devote as much time as it could possibly have on them.
3
Sex Education's Moordale Sale Helped Explain Many Character Departures
Moordale Secondary School getting sold at the end of Sex Education season 3 was the perfect way to explain the majority of the missing players in season 4. After the academic organization went under, the remaining students and its staff were forced to find other academic alternatives, leading to Otis and Eric finding themselves in a new school, Cavendish Sixth Form College. Meanwhile, Maeve got to do her own thing in the U.S. as she pursued her writing grant.
Sex Education season 4 didn't really dwell on the game-changing ending of season 3. Instead, it quickly moved forward with its storytelling. By the time the new series kicked off, everyone had already moved on from Moordale Secondary's sale. That being said, it included a couple of subtle references to what happened to other people. For instance, Sex Education revealed that Ruby's usual crew, Anwar and Olivia went to a different school, effectively explaining why they weren't around.
Related: How Sex Education Transformed Ruby Into Its Best Character (& Created A Problem)
2
Sex Education Season 4 Cast Exits Impacted Jean's Story
Aside from some of the students and staff in Moordale Secondary, Sex Education season 4 also lost Jakob — Jean's love interest and the biological father of Ola. The pair was in what appeared to be a stable relationship in season 3. However, their romance was shaken up by the unexpected news that Otis' mom was pregnant. Despite some complications, she was able to successfully give birth to a healthy baby girl. But, that didn't end her problems. Apparently, the father of her newborn wasn't Jakob.
Sex Education season 4 revealed the real father of Jean's baby, but long before that, Jakob had already left her. This gave the show the narrative opportunity to justify Ola's absence in the series. It's uncertain if Netflix knew beforehand that the father and daughter wouldn't be part of the show's final season, hence why they opted for a more dramatic baby plot for Jean. Had they remained cast members, it was possible that Jakob still opted to stay with the Milburns, with him and Jean eventually getting married, considering that they seemed to really like each other.
1
Ncuti Gatwa & Emma Mackey's Sex Education Season 4 Impending Exits Affected Eric & Maeve's Stories
As previously noted, Netflix kept Sex Education's fate beyond season 4 under wraps for months. During this time, however, several cast members opened up about their long-term fates on the show. Both Ncuti Gatwa and Emma Mackey confirmed that they were leaving the show after season 4. This would have been a major problem if Netflix moved forward with Sex Education season 5. However, their announcement also had some impact on its final year's storytelling.
For starters, Mackey's Maeve was separated from Moordale for a significant chunk of Sex Education season 4. Granted that it was set up in the season 3 finale after she unexpectedly received the international writing grant, but this limited her involvement in the show compared to if she stayed in Moordale for all episodes of season 4. Meanwhile, although Gatwa's Eric was in his hometown throughout the final year of Sex Education, he did have several scenes that isolated him from the majority of the cast. It's unclear if this was always the case, or if this was a way to make his increasingly busy schedule work with Sex Education season 4's filming, but admittedly, it would have been better if he had more scenes with Otis.