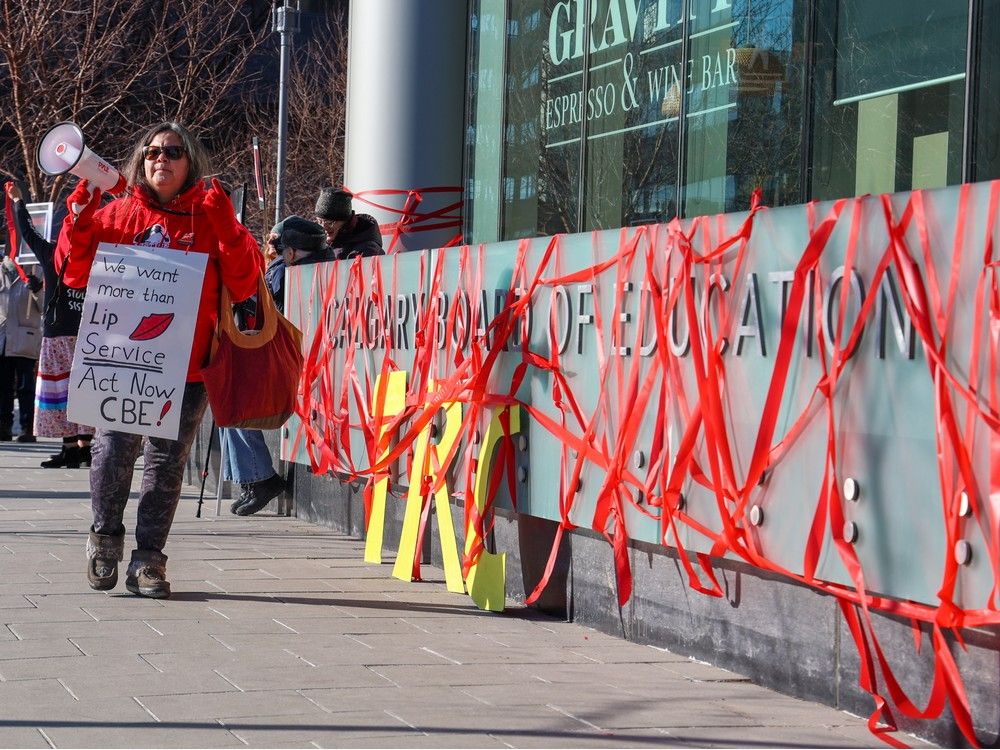 Protesters call on CBE to change name of Sir John A. Macdonald School
Premier Danielle Smith waded into the issue on Tuesday, saying she's "concerned about erasing portions of our history"
Article content
Indigenous advocates and students took to the street in the Beltline on Tuesday morning to demand the name of Canada's first prime minister be wiped from a school in the city's northwest due to his history as an architect of the country's residential school system.
Article content
Roughly two dozen protesters with the Reconciliation Action Group gathered outside the Calgary Board of Education offices — shortly before a scheduled school board meeting — to demand trustees take action on renaming Sir John A. Macdonald Junior High School. A handful of police officers showed up as the protest began, keeping watch from inside the front doors of the CBE building.
Article content
This is the latest of multiple attempts in recent years to have the CBE rename the school due to its namesake politician's contentious history. In the late 1800s, Macdonald championed the implementation of the residential school system, of which the stated goal was to assimilate Indigenous children. The last institution closed in 1997.
Article content
The Truth and Reconciliation Commission found the system amounted to cultural genocide, estimating roughly 6,000 children died while attending the schools — precise numbers are unknown due to incomplete records. Hundreds of potential unmarked graves have been found at former residential school sites over the past two years, including in Alberta.
'(I)f it was different, then people wouldn't have to be reminded of him'
Makena Halvorsen, a Grade 9 student at Sir John A. Macdonald School, said she's been advocating for a name change for the past two years with little movement by CBE to address her and her classmate's concerns.
"It kind of defines us," she said of the name. "It really does because, if it was different, then people wouldn't have to be reminded of him and the intergenerational harm that he's caused."
Article content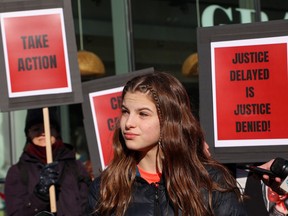 While largely peaceful, the protest did result in some shouting from the demonstrators directed at a lone counter-protester, Patrick Flynn, whom they called a "racist" for his support of Macdonald. Flynn, a Calgary criminal defence lawyer, said he was a student at the school growing up and admitted Macdonald had flaws — namely with respect to his treatment of Indigenous populations — but he said he wouldn't let the group throw the first prime minister into "the dustbin of history."
"You cannot forget history and you particularly cannot just wipe his name off of a school," he said, noting the school's name commemorated the 100th anniversary of Canadian Confederation when it opened in 1967. "I'm silently protesting what I consider to be a shift in politics where extremism wins out over common sense."
Article content
Protest planned to demand renaming of Calgary's Sir John A. Macdonald School

From 2021: Alberta First Nations welcome initiative to locate, honour unmarked graves

Piikani First Nation to start investigation of potential graves
Premier 'concerned about erasing portions of our history'
Speaking at an unrelated news conference Tuesday morning, Premier Danielle Smith took a similar stance to Flynn — and her predecessor Jason Kenney — on the issue.
"I do get concerned about erasing portions of our history," Smith said. "Because I do think it's important that we understand the rights and the wrongs that all of our prime ministers did. It is part of Canadian history."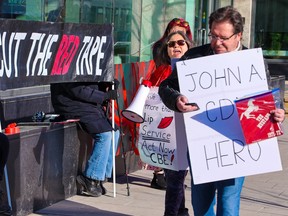 The protest also took aim at John Diefenbaker High School's logo and "Chiefs" sports team name. Fernanda Ortiz, a Grade 10 student at the school, said Indigenous and racialized students have endured an "unsafe and hostile environment where our humanity is reduced to a mascot."
Article content
"Diefenbaker High School has taken our identity and turned it into a funny trope, a caricature and a joke," Ortiz said. "They have taken a headdress that represents thousands of years of ceremony and sacred traditions and have printed it over shirts, hats, banners and floors. And I'm here to say enough is enough."
The CBE told Postmedia on Monday that it's committed to the TRC's 94 calls to action and work to consider the renaming of schools is ongoing — including a name review committee specifically looking at Sir John A. Macdonald School.
"There is no room for racism or discrimination in any of our schools or workplaces," said board chair Laura Hack.
"We recognize more needs to be done and we are listening and learning so we can continue to do better," she said.
Twitter: @michaelrdrguez